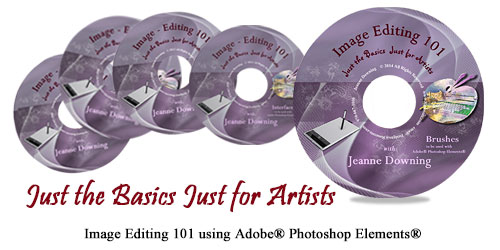 If you are like most artists, your are barely computer literate. Well, here is a series of DVDs created with you in mind!
Learn how to crop your photos, fix the color, add text and share your photos with others or on the web.
Learn about selections, how to make them and how to use them.
Learn how to turn a photo into a pencil sketch, develop a new design, create a value map, and make a color swatch card.
Learn how your digital camera, a scanner, the printer, and a pen tablet interface with Adobe® Photoshop Elements®.
Learn what you can do with digital brushes to create beautiful digital backgrounds for your artwork.
The information shared on these DVDs apply directly to Adobe® Photoshop Elements, Version 9® with the exception of the Brushes DVD which uses Version 12; however, the instructions are also applicable to other versions as well, though there may be slight variables in the appearance of the menus. Just play the DVD on your computer, and follow along with your version of Adobe® Photoshop Elements®. With each one you will glean valuable tips on how to use your computer as an art tool in concert with your own artwork.
Presented in an easy to understand manner.
| | | |
| --- | --- | --- |
| Disk 1 - The Basics | | US & CA Only |
| Disk 2 - Selections | | US & CA Only |
| Disk 3 - For Design | | US & CA Only |
| Disk 4 - Interfaces | | US & CA Only |
| Disk 5 - Brushes | | US & CA Only |
Distinctive Designs and Functionality for the Web